10th BEREC Stakeholders Forum taking place on the 23rd March in Brussels (hybrid)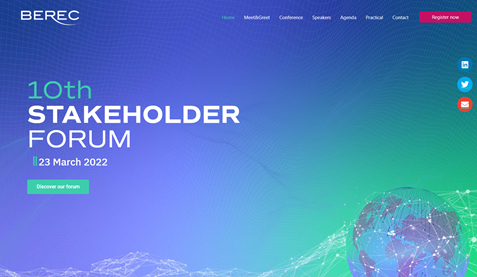 On 23 March 2022 in Brussels, BEREC will exchange ideas and engage in discussions at the 10th BEREC Stakeholder Forum. BEREC's enhanced cooperation with stakeholders will further improve the consistency and harmonised application of regulatory rules in Europe. Just as in 2021, BEREC Stakeholders Meeting will start the day with the Meet&Greet sessions, while after lunch, the BEREC Stakeholder Forum will continue the conference. The annual BEREC event will conclude with a networking reception.
Stakeholders are welcome to participate in the event in person. Participation requires prior registration. BEREC will also ensure that stakeholders who cannot travel can follow the conference's live stream on our website and on social media – Twitter, LinkedIn and YouTube.  In-person and online participants will have an opportunity to send questions to speakers via a designated online tool.
More information here
Registrations here
You can find the agenda here
Topics:
5G
AI
Big data
Broadband
Code
Competition
Connectivity
Content regulation
Data Act
Data Governance Act (DGA)
Digital Decade
Disinformation
DMA ( Digital Markets Act)
DSA (Digital Services Act)
DSM
eCommerce
Infrastructure
Spectrum
Telecoms